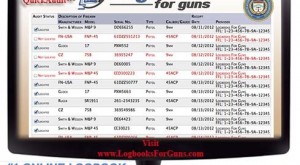 Logbooks for Guns provides a virtual and paperless way to log your guns. The software contains detailed fields for logging, such as the date of when you purchased the gun to when you sold it. You can even add addresses and personal information for each gun logged. The benefits of logging your guns are endless. In a sense, it can be a type of security. Having the knowledge at your fingertips about any gun in your inventory can give you an upper hand, no matter what they question may be and from any location with internet access and a device.
Some benefits of logging your gun are:
Keep track of every gun purchased/sold
Track serial numbers
Categorize guns by pistols, long guns, NFA, shotguns, etc.
Up to date total of all guns on hand
Search through your inventory
Print/Export reports
Create/Save more than one book
and more…
Watch our Demo Tutorial on using our software below!
Logbooks For Guns FFL Bound Book Software Demo